5 Ways to Have a Healthy Half Term This Easter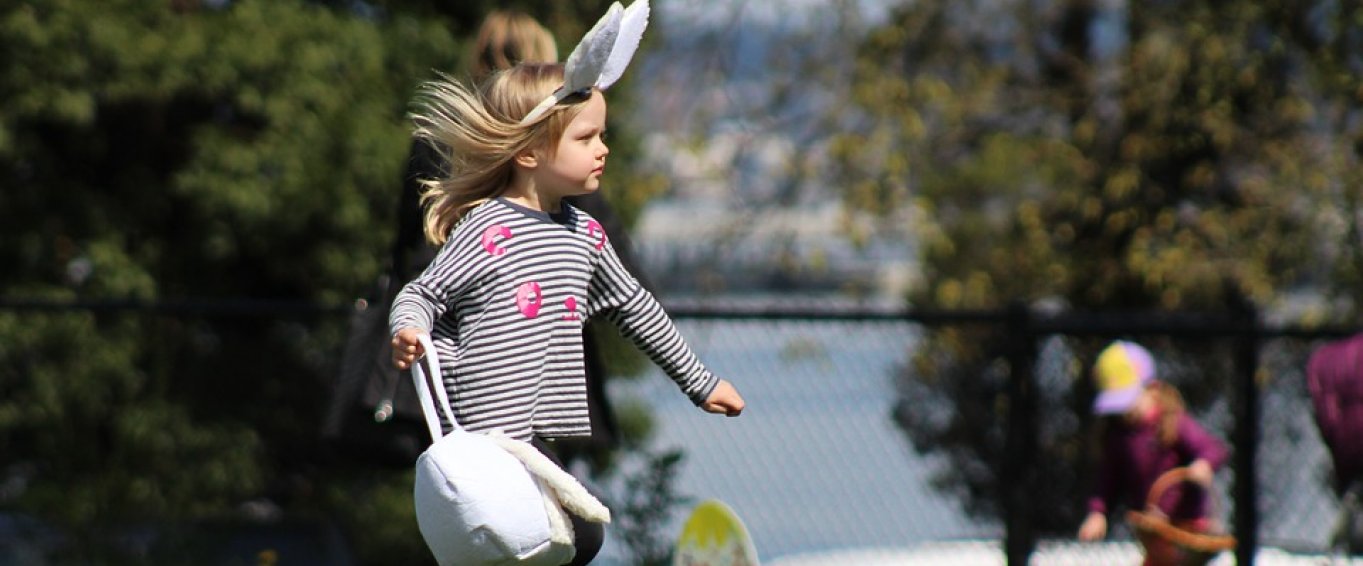 School holidays are a double edged sword for families. While it's good to have quality time with kids (and ditch hectic morning routines), there are new challenges. Providing safe childcare, balanced meals and wholesome half term activities, even for a week, is a big job.
Forget Jamie Oliver. Forget Super Nanny. Forget dainty sandwiches cut into stars. During Easter half term, your child needs to move often, eat healthy foods and avoid too much screen time. It's not about perfection. If your road is lined with unwashed dishes, sticky handprints and tinned veggies, so be it. Healthy, happy child = success.
Here's some easy ways to have a healthy Easter half term:
Do Home Activities
If you can get involved with active play, great. If you can't, use existing content to entertain kids in energetic ways. There are plenty of workout videos online. Try yoga, karate, resistance training, even dynamic stretching. It's a great way to hit the 60min physical activity target (30min in term time).
Top Tip: Pupils at Amaven Healthy Schools can use Home Activities to get active. Parents/carers: click here to log in and go to the Resources area of your portal.
Have a Silent Disco
Our Home Activities are themed around dance, but you don't need to be part of a Healthy School to move and groove. All you need is a little space, a music player and some headphones. Silent discos are great fun because everybody gets to listen to their fave tunes. We bet kids have so much fun they don't even realise it's a type of exercise.
Top Tip: Dancing is a fab way to stay fit and feel happy. And you can do it anywhere, at any time. Why not bust a move while brushing your teeth or getting ready for bed? Promise it'll make you smile.
Go for a ParkRun
If you haven't heard of ParkRun, it's time to join the cool club. Since its inception in 2004, it's become a national institution. Every Saturday morning, thousands of people across the country gather in local parks for a community run. All events are kid friendly and mixed ability. It's not a race. The idea is to turn up, run at your own pace and have lots of fun.
Top Tip: If you're new to running, take it slow. You can run for half an event, a quarter or whatever distance you prefer. The important thing is that you're up and active. Visit parkrun.com to browse and join family running events in your area.
Add Action to Story Time
Story time is a major hit with most kids (big ones included), so why not add a little extra sparkle? If it's cold outside, grab an action packed book. Put on your best silly voices, but don't get too comfy. Encourage little ones to move along with the story. If their fave character is laughing and leaping, they should do it too.
Top Tip: Basic movements like jumping, rolling, catching and bending are essential for everyday activities like tying laces, carrying objects and playing games. The more kids practise, the more skilled they'll become.
Always Snack Smart
Too much sugar plays havoc with kids' health. And you'd be surprised how easy it is to exceed daily allowances. Public Health England says children should eat only two 100cal sugary snacks (including drinks) per day. This isn't much, so it's important to find healthy alternatives if kids do get hungry between meals.
Top Tip: For a fun way to snack, try serving food on sticks. It's quick, doesn't always involve cooking and kids love eating with their hands. Fruit, cooked ham, cheese, diced veggies, toast, rolled omelette, even tortellini can be a handheld treat.
Our Healthy Schools Programme is more than a school based health and wellbeing solution. It provides support to parents and carers all year round and, especially, during school holidays. With recipes, how to guides, activity checklists, home workouts and more, Amaven makes every school holiday healthy!
Parents/carers, if you don't have a portal login, your child's teacher can download and share our learning resources with you.  
Join Our Healthy Schools Programme for FREE!
We want every child to feel healthy, be active and live life to the full! It's why we launched the Amaven Healthy Schools Programme.
It aims to increase physical activity in schools and provide pupils with a deeper understanding of fitness, movement, healthy eating, emotional wellbeing and more. Alongside FREE access to Amaven software, you'll receive:
Wellness Kickstart Day Hosted by Amaven Coaches
Onsite and Online CPD for Teachers
Impact Reports for Evidencing PE Spending
Exclusive Lesson Plans & Resources 
Personalised Home Activities for Pupils
Bespoke Health & Wellbeing Strategy
Join our Healthy Schools Programme