5 Ways to Maintain Your Child's Fitness in School Holidays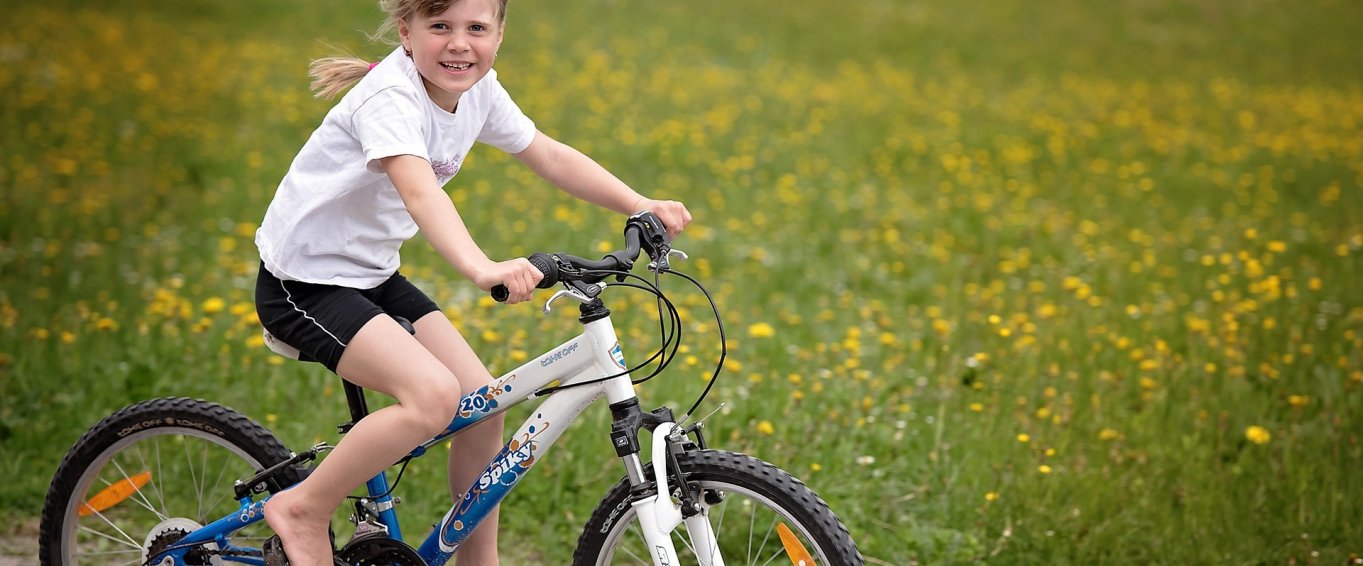 Whether you're a big family, a single parent unit or a teacher enjoying a well-deserved rest, we hope you're having a fab summer break. School holidays are a chance to relax, unwind and reconnect with all the people, places and activities you love. So, make the most of them and embark on an adventure or three.
It's especially important for children to be active over summer. Without a school routine, it's easy to develop unhealthy habits. As parents work longer hours and neighbourhood takeaways multiply, maintaining fitness can be tricky. There are, simply, more distractions holding kids back from tree swings, bike rides and kickabouts 'til dark.
According to UK Active, it's common for children to return in September with less cardiorespiratory fitness and more body fat. It says six weeks of inactivity is enough to reverse any physical gains made in term time. As our Healthy Schools Programme is committed to improving physical fitness, it's something we want your family to avoid!
Click here to explore our Home Activities and get your child moving.
Here's some simple ways for parents, teachers and guardians to keep kids active during the summer holidays.
Create an Activity Schedule
When left alone to structure holiday time, children are more likely to choose sedentary activities. It doesn't mean they shouldn't be given a choice. However, it's best to sit with your child and create an activity schedule together. Compile a list of physical games and activities for each day of the week. That way, even if you're not home during the day, you can still check progress and reward accordingly.
Top Tip: It doesn't need to be traditional exercise. Building a den, climbing a tree, making an obstacle course, winning a bike race and rolling down a big hill are great options!
Take the Dog for a Walk
If you're lucky enough to have a pet pooch, you've got a super easy way to stay active. Get your little one off the couch and outside for daily walks. If they're old enough, encourage them to, literally, take the lead. Let them choose the route and take advantage of quality time together. You could even use the opportunity to talk about healthy eating, exercise, body confidence and emotional wellbeing.
Top Tip: If you don't have a dog, ask a local relative or neighbour if you can 'borrow' their pooch. Or, get creative and pretend you've got a pet dragon or a dire wolf to walk!
Read our blog to find out why physical activity is beneficial for young people.
Start a Step Challenge
There are scores of free pedometer apps available online. If your child has a mobile phone, step counting is a clever way to use the technology for better health. Alternatively, pick up a simple pedometer for under £10. Turn step counting into a competition. Get the whole family involved and battle it out for the title of Champion Stepper.
Top Tip: Figure out how many steps it takes to reach a faraway place (like Disneyland). It might take weeks to get there, but don't forget you're racing to be the first! Use 2,000 steps/mile as a rough guide.
Always Feed Your Fitness
Often, increased physical activity comes with a bigger appetite. There's nothing wrong with this, of course, if meals are well balanced and nutritious. Active kids need lots of protein, calcium, vitamins and minerals. They also need complex carbs for slow release energy. Complex means wholegrains and veggies, NOT white bread or the processed sugars in sweets and fizzy drinks.
Top Tip: Cut the habit of forcing a child to empty every dinner plate. Being able to recognise and respect the feeling of a full stomach is healthy. It's okay to enjoy food but its primary purpose is fuel, not reward. Don't overfill the tank. 
Click for more tips on mindful, healthy eating during school holidays.
Assign PE Homework
Setting physical 'homework' isn't always necessary. If your child is a healthy weight and happy to run, jump and dance, just integrate exercise with active play. If weight management and chronic inactivity are pressing problems, however, try 10min workouts in the morning and evening. Talk about why movement is good for the brain, bones and muscles.
Top Tip: If your child's school is part of our Healthy Schools Programme, use your Online Portal to access custom exercise plans. Select a video and hit play for a fast, fun workout. If you need help accessing your portal, call us on 0161 399 9172.
Join Our Healthy Schools Programme for FREE!
We want every child to feel healthy, be active and live life to the full! It's why we launched the Amaven Healthy Schools Programme.
It aims to increase physical activity in schools and provide pupils with a deeper understanding of fitness, movement, healthy eating, emotional wellbeing and more. Alongside FREE access to Amaven software, you'll receive:
Wellness Kickstart Day Hosted by Amaven Coaches
Onsite and Online CPD for Teachers
Impact Reports for Evidencing PE Spending
Exclusive Lesson Plans & Resources 
Personalised Home Activities for Pupils
Bespoke Health & Wellbeing Strategy
Join our Healthy Schools Programme