Common Sports Anxieties in Kids and How to Overcome Them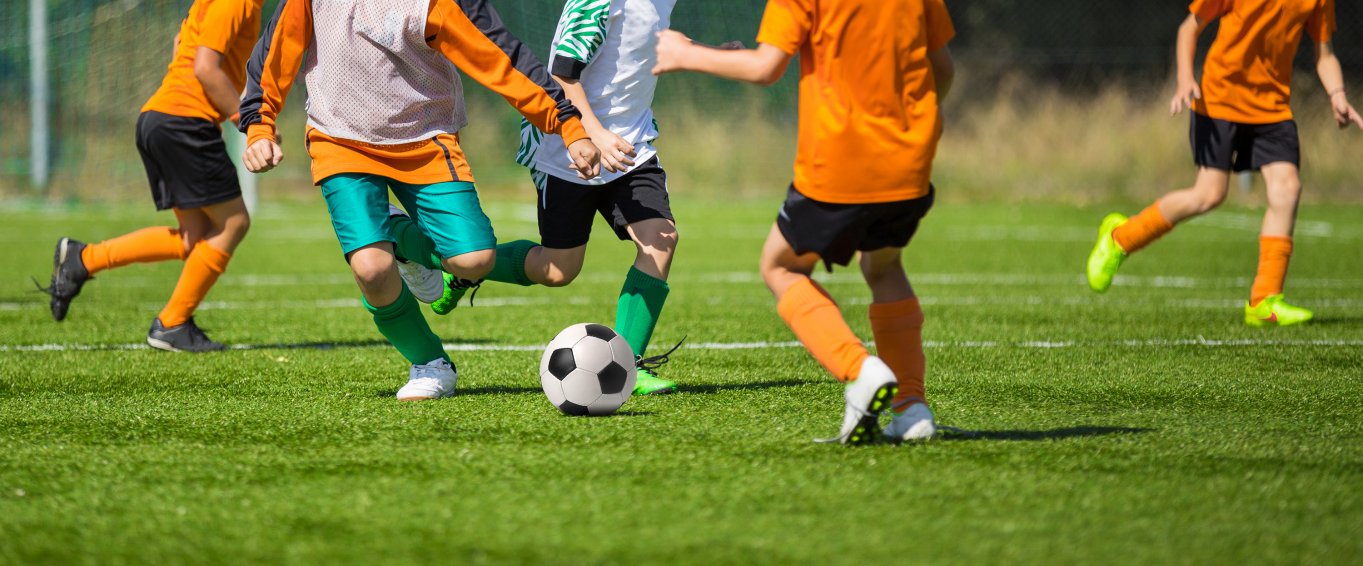 Even those who rarely play sports can list their many benefits - better physical fitness, increased strength and muscle definition, improved coordination, stronger lungs, greater self confidence and resilience (to name a few). These are things we'd like our children to develop whether they're male, female, athletic, academic, a social butterfly or a sensitive introvert.
Yet, outdated notions about who should play sports and what kind of individuals excel at them can discourage some children from participating. While there's nothing wrong with being unenthused about sports, we want all young people to have opportunities to try before they decry! Oftentimes, this means dismantling common anxieties and demonstrating the broad variety of personalities and body types present within professional sports. 
Sporting success isn't reserved for a particular type of person. Billie Jean King wore her eyeglasses on the tennis court. Melanie Roach is one of the lightest Olympic weightlifters in the world. At 5ft 5'', rugby player Rob Burrow was dubbed 'the smallest player in the Super League.' We imagine footballers as extroverts but Lionel Messi is rumoured to be very shy. We must encourage all young people to try sports as there's much to be gained from strategy, competition and teamwork.
Let's take a look at some common anxieties about sports participation and how you - as a parent or educator - can help children uncover their athletic potential.
1. What if I make a mistake?!
More so than physical dominance, resilience is essential for success in sports. We all want to win but, the reality is, athletes spend more time striving to be the best than at the top of their respective fields. It's the nature of competition and the very reason sports are so compelling. To prepare children for inevitable disappointments, make participating well as important (if not more) than winning.
Reward sportsmanship, grit and courage. Make it clear that losing successfully is every bit as worthy as winning. Mistakes don't define us; it's how we respond to them that counts. Regardless of whether they win or lose, a child who has tried their best deserves to be praised. Focus on the positives. Tomorrow is another day and another chance to try. 
Top Tip: After a setback, acknowledge a child's emotions (sadness, anger, jealousy, etc) but ask for them to be followed by an action."I understand how you feel but what will you do about it? What can you do to make the next time different?"
2. I get nervous when people watch me play. 
Stage fright is a normal part of competing in front of an audience. It won't affect all children but, when it does strike, don't dismiss it. Telling a child 'don't be nervous' has little impact. Instead, remind them nerves are a sign they care. Being emotionally invested in a game just means they're committed and passionate. It's not a weakness.
There are hundreds of strategies for calming nerves. Encourage children to develop their own unique solution. They might invent and play as a braver, bolder alter ego. They could listen to a pre-match 'hype' song or give themselves a pep talk. It may be worth researching strategies used by famous athletes and performers to show a child that even superstars get nervous.  
Top Tip: Help nervous children develop a pregame ritual. For instance, half an hour before kickoff, try deep belly breathing, followed by purposeful striding (chest out, shoulders back) and a visualisation session - picture an ideal entrance onto the pitch or start to a game. 
3. Only boys/girls can play this sport. I'm not supposed to play.
The best way to smash stereotypes about gendered sport is for both genders to grasp opportunities to defy them. It isn't always easy to be a trailblazer, but children should be encouraged to pursue their sporting interests regardless of gender representation. Where possible, try to strike the right balance between reassurance and support.
If a girl sees no reason to fear involvement in a male dominated sport, explaining why they might feel out of place could spur insecurities. Unless they express concerns, treat their interest and/or participation as the most normal thing in the world. If there's reticence, explain that equality in sport always starts with one brave person. Without a boy or girl who's willing to be the first, there can never be equal opportunities for girls to play 'boys' sports and boys to play 'girls' sports.
Top Tip: Social media is a great way to expose children to athletes who are trailblazers in their fields. Individuals like footballer Steph Houghton (captain for England), gold medal gymnast Max Whitlock and ballet dancer Edward Watson regularly post inspiring content on Twitter, Facebook and Instagram. 
4. I'm scared of getting hurt during practice or a game.
Injuries are a possibility no matter what type of sport a child plays, though some activities carry more risk than others. Often, children play without fear - even in the midst of rough tackles and ugly deflections - until they sustain an injury. Then, aware of their fragility for the first time, they may develop anxieties about being in similar high impact, high intensity situations. 
Again, it's important to strike the right balance between attentiveness and resilience. Don't ignore injury gripes but avoid making a fuss. Even serious injuries (breaks, fractures, tears) can be overcome but it takes pragmatism. Treat injury risk as a normal part of play and performance - practise safe manoeuvres, discuss injury protocols, be clear on right and wrong ways to do things - rather than something to consciously avoid. 
Top Tip: Where possible, include injured players in practice sessions just like a professional team would. Even if they can only watch, it suggests you're already looking ahead to a time when the child is fit and ready to return. It says don't take your eye off the ball because injuries are temporary. They're an annoyance, not a nightmare. 
Football is a high intensity sport with lots of nail biting moments! Use our funky footie drills to help players get the perfect shot.
Or take on our ball skills challenge by downloading a Football Skills Scorecard.