Unleashing Your Potential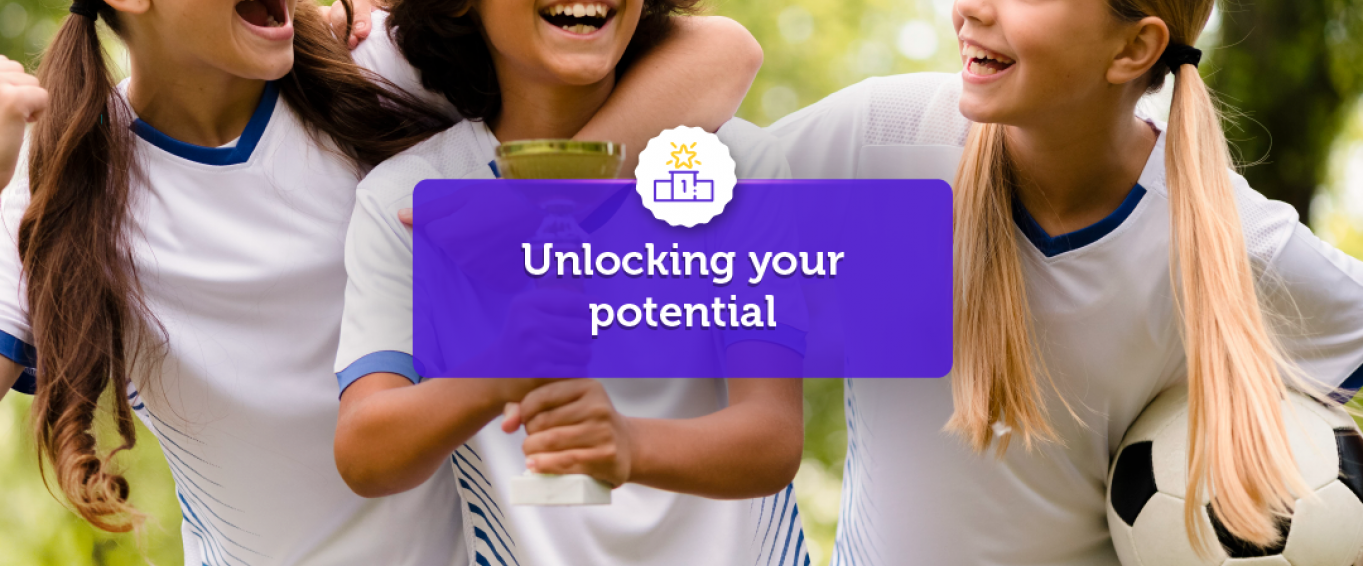 Throughout the summer we have focused on unleashing your potential, through providing you with information on developing skill and components of fitness. We have continued this theme as the new school year has started, but we have explored psychological elements of performance.
Hopefully it is clear by now, that we really do care, and all of our programmes, including Young Champions is about being the best version of you.
This does not happen overnight; the world's top athletes work tirelessly for years to be the best. The unfortunate truth is that not everyone will be the next Ronaldo, Lebron or Venus Williams, but, with time, practice and hard work, everyone can unleash their own potential, to be as brilliant as they can be.
This journey is what is referred to as Long Term Athlete Development (LTAD). LTAD is a journey to a destination. As with every journey, there will be bumps along the way, sometimes training will be great and performance will be high, sometimes progress will appear slow or non-existent, but this is all part of the process. A process that every athlete has been through. The ones that get to the top are the ones that weather the storm, the ones that keep going when times are tough, the ones that will simply not take no for an answer.
Our team of coaches, sports scientists and movement specialists are all here to support you every step of the way and we work by 4 core values;
Ensure (you) the Athlete is at the centre of everything we do, and everything we plan, to unleash your growing potential.
To Educate through training. We want all our athletes to succeed, but we will also support with tips on how to live and train like all the great champions.
To be the best we can be.We will help you set goals, achieve and reflect on success and development areas.
To mentor: You will receive on-going support from the very best coaches and industry professionals.
Although are values are driven by supporting you, the true champion will take ownership of their own training and own development, we want to encourage you to want to train, to be your own coach, which is why Young Champions will allow you to;
Monitor your own athletic ability and create your own profile

Reflect on your own performance

Set your own goals

Consider priorities and sacrifice

Creating your profile
The best athletes show real confidence with their strengths, but they are also very aware of their development requirements. They know what needs to be improved. When you log into your Young Champions Portal, you will be able to test yourself as often you like (although we recommend every 6-8 weeks).
Click on 'start a test'  and follow the on-screen instructions. This is where you will find a series of physical and technical challenges along with all the instructions needed to complete them.
Once you have completed an activity, simply log your score and click 'complete test'  when you are done. This will provide you with your very own profile. You will be able to clearly examine your strengths and development requirements.
With this knowledge, comes great responsibility…. Your challenge is then to start your journey and to try and show continued improvement.
Remember, there will be ups and downs in training and performance, progress does not mean that you just start getting better at something, there may be times when your scores go up, there may be times when they come down, but remember, this is LONG TERM, we care about you and want you to show sustained growth and development…. This is not an overnight fix.
Reflection
As mentioned, we want your child to reflect on their own practice, to take ownership of their own development.
We pose key questions at the end of each session that we encourage them to take into their sports teams and indeed their day to day lives. This is a very simple process but by taking the time to honestly reflect can inform training patterns and goals for the future and have a huge, positive impact on performance, simply ask;
How did I train?

How did I play?

What did I do well?

What could I do better?

What help might I need?

Goal Setting
Goal setting is far more powerful when the goals are personal and mean something to our champions. Taking advice from a coach and a parent is absolutely fine, and should be encouraged, but when it comes to setting goals for future improvements this should be personal. There is a greater possibility of the children and athletes reaching these goals if they are personal to them. However, there are some rules to follow to ensure that goals enhance performance and aren't so distant or unachievable that they become a burden.
A well-known method for goal setting is SMART.
SMART Goals are; Specific, Measurable, Attainable, Relevant, Timebound
For example, "I would like to improve my 20m sprint time in 8 weeks time"
Specific – improve speed
Measurable – time is recorded, to go a step further I may say how much quicker I would like to be.
Attainable – with training, practice and perseverance it is possible
Relevant – as a young champion, it is one of the important fitness components
Timebound – 8 weeks!
This method can be used for most goals, and children might wish to use a similar method for their chosen sport.
There are a few other small tips that we would advise to ensure that goal setting is effective.
Write them down and keep them safe. This allows you to refer back to them.

Share your goals with someone. This will keep you accountable

Use short-term and long-term goals. "To be a premier league footballer by the age of 21" is a fantastic goal to have, and if that is your dream, go for it, but what smaller goals could help you get there? E.g. To score more goals this season than last season etc.

Make your goals SMARTER. This means that your goals can move, they don't need to be fixed, as we advise you to 

E

valuate and 

R

eadjust as you go.

Sacrifice - Really?
This isn't as scary as it sounds, our Young Champions programme is about making good choices. As the Young Champion is in charge of their own training, we try to establish some accountability and encourage healthy habits.
We will provide tips and support along the way, but really what we are asking is; if you have set the goal of "I would like to improve my 20m sprint time in 8 weeks time," are you going to achieve this by playing computer games all evening?
By sacrificing 30 minutes from your games console, it would give you 30 minutes back to train, making you 30 minutes closer to your goal – we are not saying don't play computer games (they are really fun), we are just reinforcing healthy choices.
Young Champions is more than just a training programme, we really are the only holistic development programme out there!
HAPPY TRAINING
Most importantly of all, our programme is fun, engaging and lead by the Young Champion. By creating a profile that they can see, and develop, by setting their own goals and gaining their own achievements we believe that children will be happy whilst they are training, and this, is the most important thing of all.
We spend a lot of time talking about development, and rightly so, but what we really want to achieve is a life-long love of sport.
This will help sustain health and wellbeing well into adulthood whilst progressing our fitness and sports skills.