05.10.16
Primary Schools
Youth Strength and Conditioning
Fundamental movement skills: Why kids need to learn early on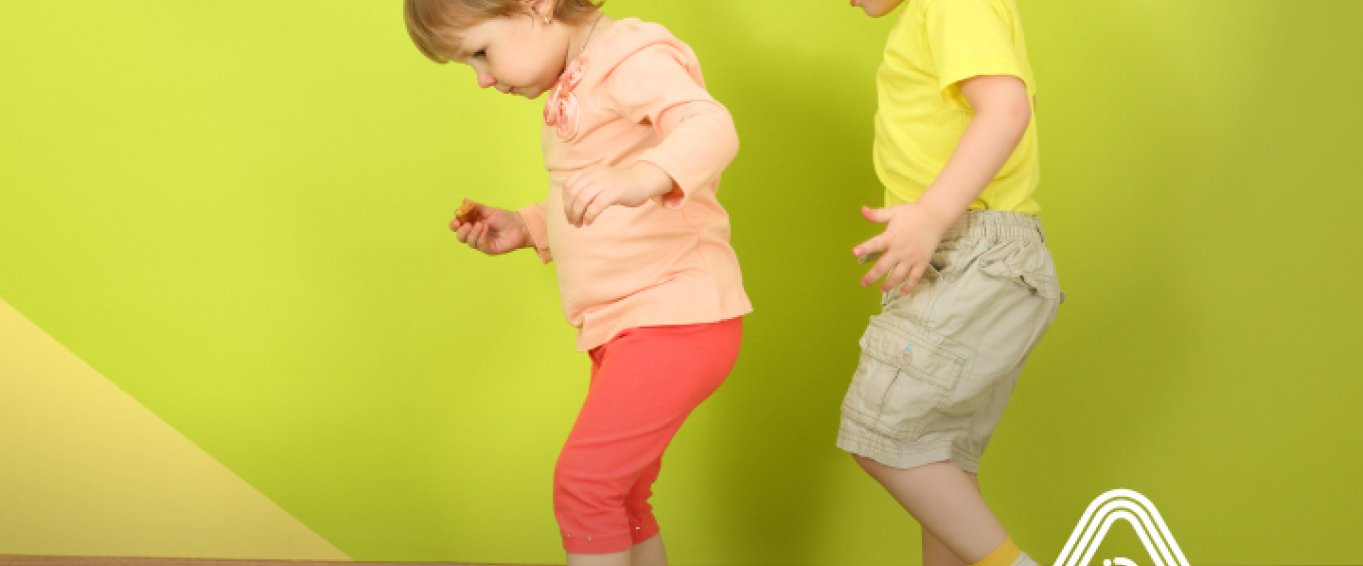 We all hope that our children have bright futures. In order to make the most of their lives, we encourage them to excel in school, make friends and pursue a strong career. Although physical activity is a vital for our health, we often neglect to educate children around the benefits of exercise and why it's so important to pursue activity from a young age.  
A new study by The University of Loughborough tested young children starting school and found that a large number of children experienced problems with their balance and coordination, which ultimately effected their ability to learn in class. Researchers believe that this is a result of modern children being less active in their early years compared with previous decades, with typical movements associated with play and development reduced by the introduction of screens. 
Fundamental movement skills (FMS) are the building blocks of being active; they underpin every movement that we'll make throughout our lives. Learning fundamental movement skills enables agility, balance and coordination and should be developed from an early age to ensure that every child is given the opportunity to excel in sports and fitness. Not only this, studies have found strong links that developing these core skills can have a positive effect on confidence, cognitive function and communication. From an early age, a child's level of physical development dictates their ability to hold a pencil, put on their shoes and read a book, and as children grow this set of skills will determine how they behave for the rest of their lives.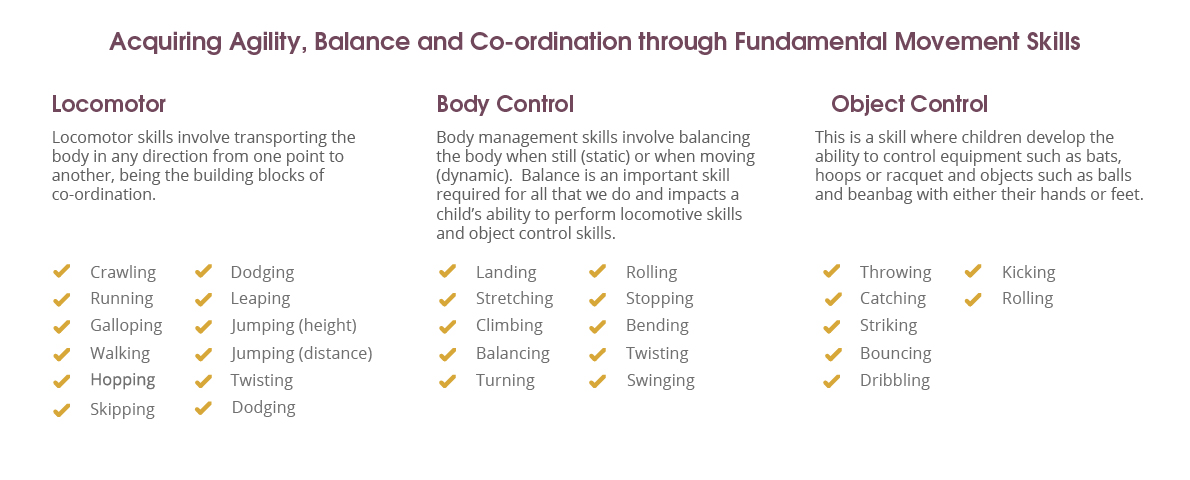 As you can see from the image above, fundamental movement skills are divided into three sections, including locomotor skills, body management skills and object control skills, which are all taught in key stage 1 and developed further in key stage 2. As each skill is developed, competency in agility, balance and coordination increases.  However, there is a closing window of opportunity for children to develop fundamental movement skills before puberty, as it will be more difficult to develop the patterns of movement after this age. 
Master fundamental movement skills early 
In order to meet the current UK National Curriculum for PE, children must be competent with basic fundamental movement skills used in sports. For example, Key Stage 1 children should 'participate in team games, developing simple tactics for attacking and defending'. However, the current UK National Curriculum for PE does not prioritise the development of fundamental movement skills. Instead of using specific exercises and movements to develop sport specific skills, many schools focus on playing the sport itself which serves to alienate the children who have not yet developed FMS. If a child does not reach this standard they will have difficulty progressing with the rest of the class and will avoid participation in PE due to a lack of confidence. This could progress into an aversion for activity altogether and a poor attitude towards exercise for the rest of their lives.  
Children that have developed FMS, and are proficient in agility, balance and coordination, have a greater chance of playing sports and enjoying activity. This love of activity usually continues throughout their adult lives, leading to a healthier lifetime with a reduced risk of chronic or hypokinetic diseases. There is also a strong link between movement and confidence, individuals who develop their confidence and learn how to control their bodies at an early age move with awareness and develop new skills.  
How to promote the development of the fundamental movement skills
Unfortunately, fundamental movement skills aren't picked up naturally through free play, it takes time and dedication to learn each movement. According to the Department of Education, Victoria it takes approximately 240-600 minutes to develop one single FMS, which is no small feat considering children only receive around 2 hours of structured PE lessons every week. With this in mind, it falls on parents and teachers to accelerate development by setting personalised FMS homework for each child to practise out of school. This allows them to continue to learn the necessary skills at their own pace, while allowing parents to be engaged in the process. 
While some possess natural talent for sports and movement, the majority of us will need to work hard to achieve the right level of movement. As Shakespeare once said, "Some are born great, some achieve greatness." Just like learning to play a musical instrument or studying a language, developing fundamental movements skills and excelling in physical activity is the result of dedication, practice and learning. 
Want to become a better Athlete? 
Our Sports Apps below can help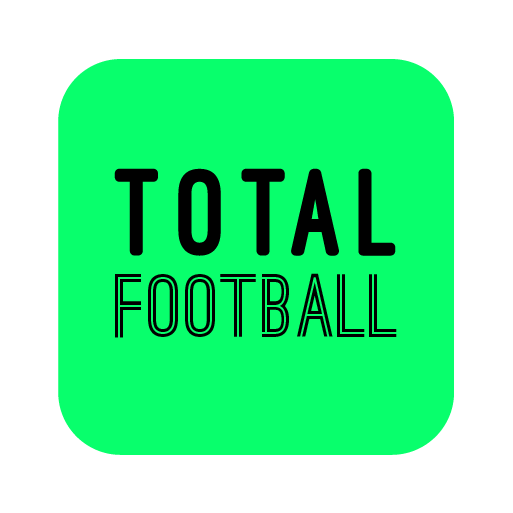 The Total Football App, is designed to support players of all ages and skill levels. It is the only Football Coaching App that integrates 5 phases of skill acquisition and long-term athletic development, meaning that all sessions and activities are designed to meet your current skill level whether you are just starting out, or are an experienced academy player. All our turning sessions are designed by UEFA Qualified Coaches and are supported by further sessions in:
Ensuring that players aren't just practicing but are practicing with the highest quality. We also have a range of physical development practices, healthy lifestyle sessions, and psychological tips to help develop the total footballer. If your child needs help developing their turning, or any part of their game, you can try the app for free now!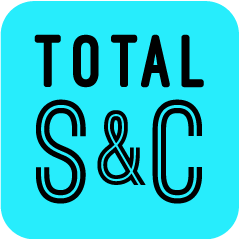 Stength and Conditioning Platform for Clubs and Academies
Our Total S&C platform helps coaches to deliver a LTAD and S&C programme efficiently to a large number of athletes across all age groups playing different sports.
Our Strength & Conditioning platform consists of a Portal for the coaching team, enabling them to modify training sessions, monitor players training history, input test results and identify players who are sports ready. The athletes are provided their own S&C Player App which allows them to take control of their own training, self-test, log exercise history and track progress.
We get athletes sport ready. We reduce overuse injuries and burn out. We help to develop independent and healthy athletes.
Automated session generator saves time
Monitor athlete adherence and progress
Online management portal for coaches
Training App for all athletes
Testing and profiling to identify sport readiness